23CCC are taking part in Save The Children's Christmas Jumper Day
Why not have a go at the Christmas Quiz below with a chance to win a wonderful tin of chocolates and raise money for Save the Children?!
*Text TEAM23CCC to 70050 to donate £2 to Save the Children's Christmas Jumper Day.
Give it your best shot and send your answers to Carol by email, or drop the print off back to Carol, or the office, before Friday 14th December, when we will announce the winner! Winners will be drawn at random from the most answered correctly!
Be sure to write your name and email address / preferred contact number on any paper entries!
CLICK BELOW TO DOWNLOAD THE QUIZ: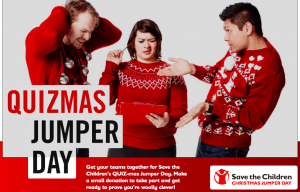 Good Luck & Thank You!
Aidan, Carol, Matt & San
Contact – carolhaylock@23ccc.com
*Text TEAM23CCC to 70050 to donate £2 to Save the Children's Christmas Jumper Day. You'll be billed £2 plus standard rate text message. We receive 100% of your donation. By texting TEAM23CCC you agree to calls about fundraising appeals, campaigns, events and other ways to support. Include NO PHONE to opt out of calls. Queries? 020 7012 6400. Read our Privacy Policy www.savethechildren.org.uk/privacy.
General Data Protection Act 2016 – 23CCC's Privacy Policy can be found here.